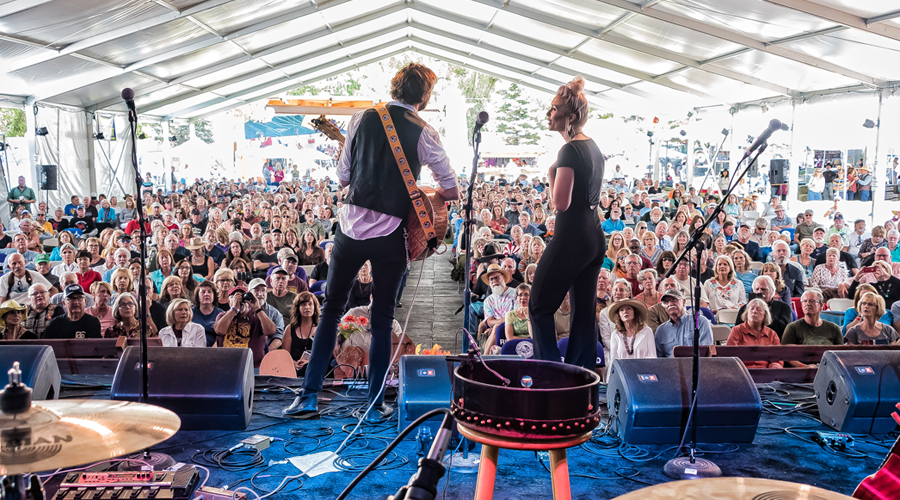 What COVID-19 safety measures and restrictions are in place?
We are moving forward with "pod style seating" in an open-air environment (no main tent), but will have a large stage and screens so everybody will have a good seat and viewing experience. Plus, we plan to provide plenty of covered spaces to retreat from the sun or inclement weather. We will go back to our normal set-up next year. With the safety and well-being of our attendees and the local community in mind,
the Town of Taos has mandated that we must require proof of either a negative COVID-19 test result (within 72 hours of the event) or proof of full COVID-19 vaccination
in order to be allowed on festival grounds. The Town of Taos has arranged for a free rapid testing booth to be available on-site beginning at 10am each day (Thurs-Sat). Operated by Net Medical, the rapid tests provide results in just 15 minutes or less. It is not required of you to utilize this rapid testing site, however we do ask that if you use a separate testing facility that your test be taken within 72 hours of your arrival to the event. We encourage those that are fully vaccinated to also get a rapid test if they feel comfortable doing so. This helps ensure the safest experience possible. You will only be required to show proof upon your initial entry to the event.  
We appreciate your understanding and cooperation on this matter.
Do we have to wear a mask?
Masks will be required when you are outside of your pod in a location where social distancing cannot be maintained.
How will we receive our tickets? How do we know we are confirmed?
You will not receive a physical ticket. Instead, the names of each person in your pod will be listed at Will Call at the main entry gates. As each person checks in, they will either receive a wristband that is valid for all 3 days of the event if you purchased a 3-day pass (non-transferrable) or a stamp if you purchased a single day ticket. Please consider the confirmation email from PayPal noting that you are paid in full as your festival confirmation.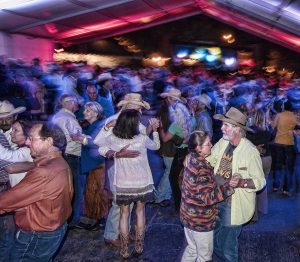 What is a "seating pod" and how will it work? Do I need to bring my own chair? Do I have to reserve a pod each day?
A seating pod is basically a sectioned-off square on the grass. We will have rows of 2, 4 and 6-person pods, each sized accordingly. For example, if you purchased a 4-person pod, you will select an available pod that is on one of the 4-person pod rows and all 4 of you will sit in the pod you select. These rows will be clearly marked and we will have seating attendants available to guide you to the best location. In regards to chairs, we will have standard folding chairs available for your use, however we encourage you to bring your own standard style camping chair (No larger than approx. 36″ x 32″ x 20″) as they are much more comfortable. You must reserve your pod each day (first-come, first-served). So come early, at least to put a chair in a pod to reserve it for the day. You will not be able to leave your stuff overnight. Anything left overnight will be placed in the lost and found bin for you to collect the next day.
Do I have to buy tickets in addition to the seating pod?
No, your seating pod purchase includes the respective amount of tickets/wristbands.
When does the music start and end each day?
The music starts at 2:00pm and ends between 10:00pm-10:30pm each day. Doors are at 1:00pm for all General Admission attendees (12:30pm for VIP), however we recommend arriving early to get the best choice of seating pods. The detailed lineup will be released soon.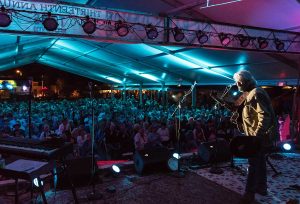 Will there be a big dance on Saturday night?
We will have 2 large dance floors set-up near the stage throughout the weekend and many great dance bands for you to kick up your heels to. But, at this time we will not be selling any "Barn Dance Only" tickets as we usually do for Saturday evening. All guests will need to purchase a 3-day pass or full day pass (once available) to attend.
Can I bring an umbrella for shade?
We are not permitting umbrellas in the main seating area. Please wear layers and bring a good hat to protect you while the sun is out. We will provide tented areas for you to retreat to should you need it. Ponchos, hats, hoodies and more will be sold at the merchandise tent.
Can I pick up my 3-day wristband early?
YES! We encourage you to come see us either on Wednesday evening at the Art Gallery Hop (location and times TBD) or Thursday morning at the main entry gates beginning at 9am to get your wristband early and avoid having to wait in long lines.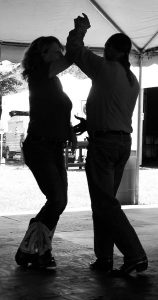 Will there be food and drinks for sale? Is outside food or drink allowed in the venue?
We will have a great selection of food and snack vendors and a bar set up with with both alcoholic and not-alcoholic beverages available. Outside food and drink is not permitted.
Are dogs allowed to sit with us in our pod?
Yes, we are allowing our furry friends to enjoy Barn Dance, however, we will have very strict rules and guidelines including a barking policy, a potty policy and more. You will be asked to check your dog in at the front gates and sign a waiver.
Can I volunteer in exchange for a 3-day pass to the event?
Yes! We are still in need of reliable volunteers to assist with the event (especially in the evenings). In exchange for working two (2) 4-hour shifts, you'll receive a pass for the entire event. We have many shifts still available from being a wristband checker at certain checkpoints to working the entry gates, merchandise tent and more. Email us at
info@highdesertent.com
for more information.
Can I be a food or craft vendor at the festival?
Yes, we are currently accepting applications for craft and food vendors at the event. Please email
info@highdesertent.com
for more information.
Can I get a refund on my ticket?
High Desert Entertainment will be offering a full refund on your ticket until August 8th, 2021, after which we will not be issuing refunds. If you have to cancel this year, we are happy to transfer your tickets to the 2022 event, or if we are able to sell your tickets to people on the Wait List, we would give your money back minus a 10% processing fee (based on demand and not guaranteed). Please email info@highdesertent.com if you have to cancel. Big Barn Dance is a rain or shine event. In the event that we are forced to cancel the event due to COVID19, we will schedule a make-up event for which your ticket will carry over to. We appreciate your understanding give the unprecedented times we find ourselves in.
*Please note that your ticket will not be automatically transferred to 2022 if you do not attend this year's event. You must email info@highdesertent.com PRIOR TO THE 2021 EVENT to make the transfer.