Dear Barn Dance Friends,
As I think we all know, these are very challenging times. Unfortunately, our team and the Town of Taos has come to the heartbreaking decision to cancel the Big Barn Dance 2020 event this September. When this all began, we determined that if by June 1st we couldn't guarantee a safe and successful festival for all, then the right thing to do would be to cancel. With the current state of this pandemic along with local and state cancellations of large gatherings in New Mexico, we are unable to move forward this year.
Our hearts are so sad. Barn Dance means so much to so many and we really had an amazing 3 days lined up for all of you. Big Barn Dance 2021 will be off the charts and we hope you'll all mark your calendars for September 9th, 10th & 11th, 2021 and join us in Taos for an epic comeback and reuniting of friends, family and good music.
In trend with other cancelled festivals and events, we plan to stream a virtual music series of the festival and hope you'll tune in and donate to these incredible artists that are so in need.
To anybody that purchased a VIP package in the beginning of the year, we will be reaching out to you via email very soon with more information and options regarding your purchase.
We thank everybody for their patience and understanding. We will come back stronger in 2021 and even more grateful for all the love and camaraderie Barn Dance is known for. Stay tuned for information on other exciting shows and events we have up our sleeves!
Stay safe and healthy!
With love,
Michael Hearne & The Big Barn Dance Staff
How it started
The Big Barn Dance started out as informal Saturday night neighborhood two-steppin' parties near Taos, New Mexico. Every couple of weeks all summer long during the 1990s, an authentic mountain country barn dance took off under the stars at Casa de Caballos Ranch in Des Montes, up the road from Taos. Michael's band, South X Southwest, showed up with various friends and musical colleagues to pick, play and dance 'til the wee hours. Folks just kept coming, and the summer barn dances became a beloved tradition that music lovers and two-steppers looked forward to year after year.
For a decade afterwards, the Big Barn Dance was produced at the Old Blinking Light Restaurant and KTAOS Solar Center on Route 150, where the generosity, hospitality, food and fun were the best to be had. We thank Mike and Vee, Nat and Connie, KTAOS, and all the staff and volunteers for many years of wonderful memories.
The Barn Dance has also been held in the alpine beauty of Taos Ski Valley.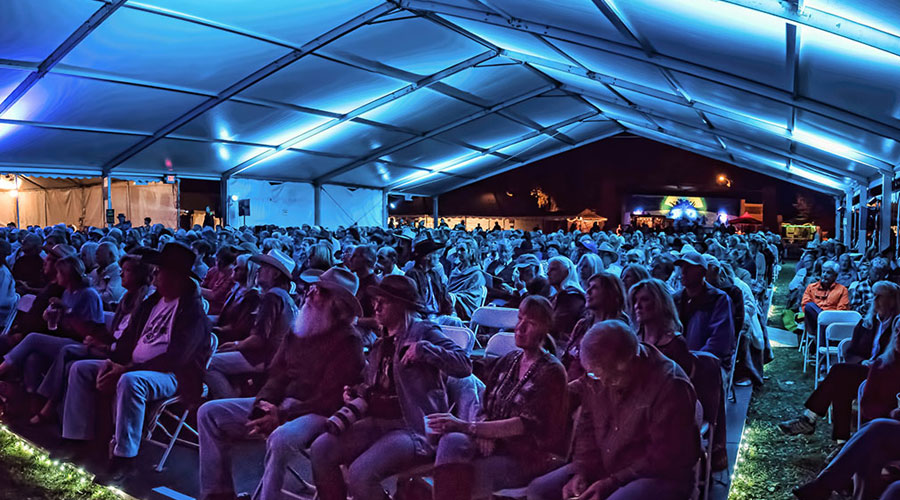 Today, Michael Hearne's Big Barn Dance Music Festival has transcended to being a premier musical event of the Southwest. Not to be missed, the Big Barn Dance will play out under the sun and stars in Kit Carson Park in the center of the Town of Taos, New Mexico, where Michael hosts a three-day Americana music extravaganza. Come catch your breath in the heart of the magical Sangre de Cristo Mountains the weekend after Labor Day. Stay in Taos and surrounding areas, where you'll find Native American culture, the arts, fine dining and outdoor recreation.
Michael has maintained a friendship over the years with some of the finest songwriters and bands in the world. True to form, the Big Barn Dance provides a showcase for musical brilliance, allowing audiences an up-close and personal experience with songwriters as they spin tales revealing the creative process and the story behind the song.
The Big Barn Dance Music Festival is a listening room experience in a festival setting that concludes with the Big Barn Dance, so bring your listening ears as well as your happy feet.