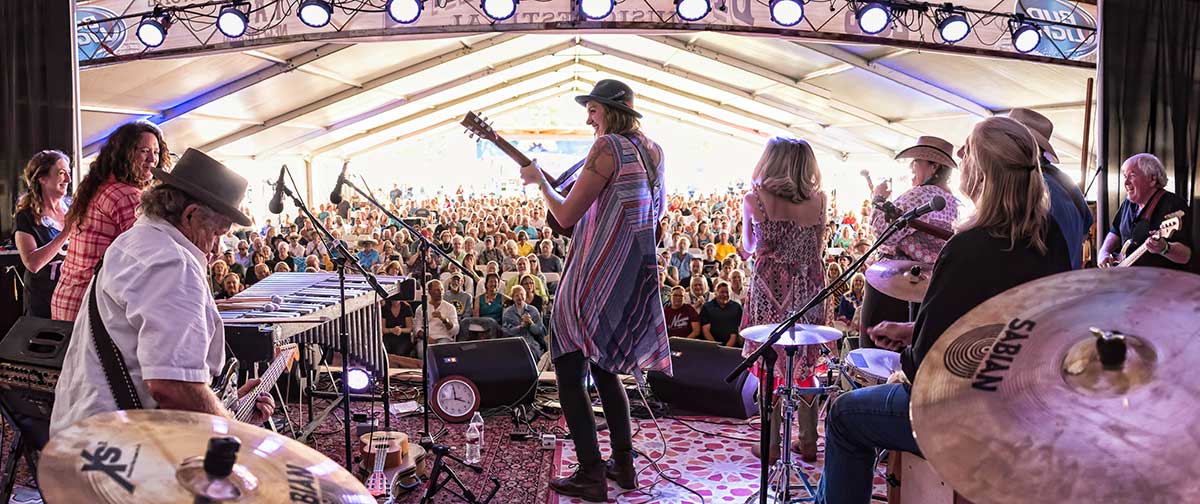 How do I purchase tickets?
You may purchase tickets here. Tickets may also be purchased at the gate until sold out.
When can I pick up my wristband?
You may pick up your wristband from 3pm-4pm on Wednesday, September 6th during the art gallery walk. Our desk at the front gates will also be open beginning at 9am on Thursday, September 7th. We encourage you to come early to redeem your wristband for easy entry later. Doors will open at noon on Thursday and Friday and at 11:00am on Saturday.
Does the 3-Day pass and the Saturday Only ticket include entrance to Saturday night's 'Barn Dance'?
Yes! The 3-Day Pass includes entry for the entire weekend including the Barn Dance on Saturday night. The Saturday Only ticket is good from when doors open at 11:00am until the end of the night.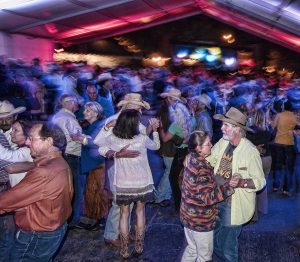 What is the "Barn Dance"?
At around 7:30pm on Saturday night, we will clear all of the chairs out of the main tent and turn our "listening room" into the biggest "Barndance" in the southwest!
Will there be protection from the sun and rain?
Yes! We have a large, seated "listening room" style tent that will keep you cool from the sun and dry from the rain. New Mexico weather can be unpredictable in September however, so come prepared for sunny days, chilly nights, and the possibility of a New Mexico rain.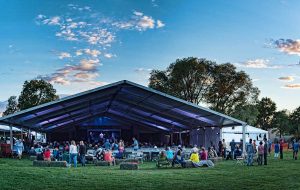 Can I bring my own chairs?
Seating will be provided under the main tent throughout the weekend (until Saturday night's Barn Dance of course!) but you may bring your own chairs. We ask that you keep chairs in the lawn area only.
Are there reserved seats inside the tent?
All seating inside the main tent is first come, first served. Seats may not be held overnight. Big Barn Dance is not responsible for items left overnight, and all items left behind will be placed in lost and found.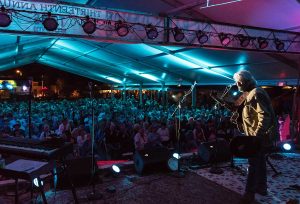 Can I bring my own food or drinks?
Absolutely NO outside food or drinks are allowed inside the festival grounds. We will have several free water stations available on the festival grounds – please feel free to bring your empty water bottle for water refills!
Where is the best place to stay during the Barn Dance?
We have several favorite lodging options in the Taos area! Check out our favorite places to stay here.
Will camping be available?
Yes! RV camping (with NO hookups) is available on the park grounds near the festival site for $50 for three days (extra night options available as well). Space is limited so please reserve your site by emailing our campground coordinators, John & Marilyn at keyzzyjmw@gmail.com
Are dogs allowed at the festival?
Yes, for the time being dogs are allowed at Big Barn Dance. We love our furry friends, but it's very important to preserve the "listening room" experience for all of our human festival goers. If you bring your dog, they cannot bark, use the restroom anywhere on the festival grounds and may not come under the tent.
Will there be dance lessons?
Yes! A free dance lesson will be held by Rick Lambert on Saturday morning from 10:00am to 11:30am in the Big Barn Dance tent.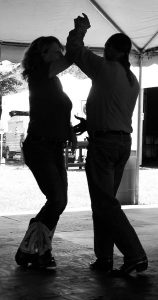 When is the songwriting workshop and how do I sign up for it?
The songwriting workshop with Terri Hendrix and Lloyd Maines is scheduled for Saturday morning, from 10am to 1pm at the Taos Center for the Arts (TCA) located adjacent to the festival grounds. The workshop costs $35/ person for ticket holders, and $50/ person for non-ticket holders. Seats are limited, so reserve your space by emailing bigbarndance@hotmail.com.
What is the Taos Art Gallery Stroll?
The Taos Art Gallery Stroll is scheduled for Wednesday, September 6th beginning at 3pm and is free and open to all. Visit the schedule page for full details.
Is the bar cash only?
Yes, the bar is cash only. We will not have an ATM on-site, so please come prepared. We do offer a full bar that includes beer, wine, and liquor.
Where do I pick up my VIP/ Sponsor tickets?
Sponsors may pick up their VIP tickets at the front doors. Please present your ID to the ticket sales representative to receive your wristband. Your wristband will be good for all three days and will grant you access to the VIP tent. If you're interested in becoming a Barn Dance sponsor, click here or email bigbarndance@hotmail.com.